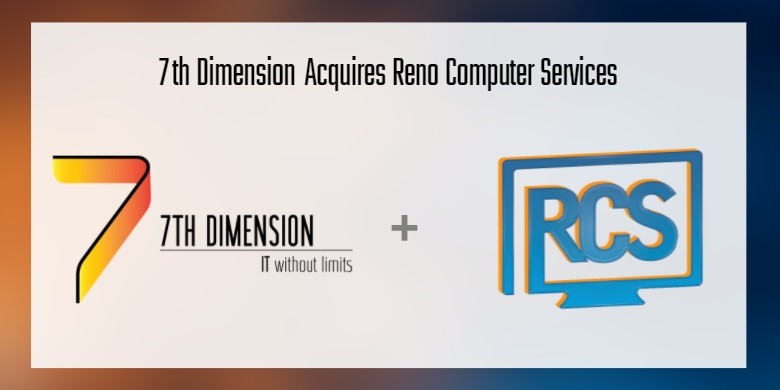 7th Dimension acquires Reno Computer Services
The acquisition enables 7th Dimension to further extend their promise of IT without limits.
El Dorado Hills, CA, February 01, 2022
Today we are pleased to announce that 7th Dimension, Northern California's premier IT company, is joining forces with Reno Computer Services, which is known as one of the most highly rated IT providers in Nevada.
Both 7th Dimension and Reno Computer Services take great pride in delivering top-tier customer service and promptly responding to all of our clients' needs.
The acquisition of RCS fits into 7th Dimension's mission to continue expanding and delivering on our promise to deliver IT without limits. By teaming up with RCS, 7th Dimension will be able to access a wider customer base, while creating diversification in its products, services, and long-term prospects.
Going forward, we want to assure our clients that 7th Dimension will still be the same company that they have grown to know and trust with their IT services. Our mission remains unchanged going into 2022. With RCS, we will simply have more resources to continue providing professional IT services that keep our clients' infrastructure running smoothly.
We are excited to share more about what we'll be working on together in the coming months. The possibilities are endless, and we are only just getting started.
About 7th Dimension, LLC
7th Dimension specializes in working with small and medium-sized companies without the resources to hire their own in-house IT department, and corporations looking to save money by outsourcing their IT.